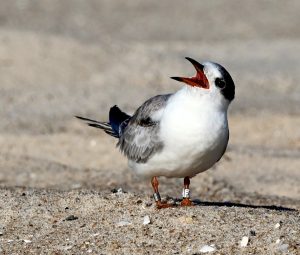 This summer, we banded 180 common tern chicks with a metal USGS band on their right leg. Most of those received a field readable band on their left leg. The metal bands are put on when the chicks are at least 1 day old, but the field readable bands are not put on until they are at least 10 days old. We also banded 91 common tern adults and have recaptured 7 that were banded either previously on the raft or other places. Field readable bands have a combination of numbers and letters that can be seen with binoculars, if close enough, or a spotting scope. The band allows for recognition of individual terns and other people to record and report the band once the terns have left the nesting platform.
We band adults and chicks to understand more about these long-lived migratory species. Re-sights provide a wealth of information, such as where they overwinter, and if they return to the same place to nest each year, as well as if they stop anywhere along their migration. We had two terns nesting on the platform that were banded during the winter in southern Argentina, which is over 5,000 miles away! Without bands on, we would never know how far individual terns travel during a year.
Two of the terns nesting on our platform were banded as chicks in the Chesapeake Bay, one was banded two years ago near Hampton Roads Bridge Tunnel, Virginia, and the other banded three years ago on Poplar Island, Maryland. Common terns usually don't start breeding until they are three years old, but sometimes they do when they are two years old. We wouldn't have realized that without knowing when and where these terns were banded as chicks. This information is critical in understanding demographics about the species.
Of the 19 common terns banded on the raft last year, 15 of those have been spotted on the raft this year! That means over 80% of the terns that nested last year returned to the raft this year, which is another example of the invaluable information that banding programs can provide. We are excited to see how many of our banded terns will return next spring!