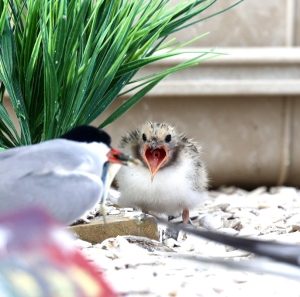 Our first sad news from the tern raft.  Two weeks ago, as many of you know who live close by, we experienced a two and a half day storm of sustained 30+ mph winds just at the same time that many of our tern chicks were either just hatched or very young.  The tern parents tried very hard to protect and feed them, but it ended up being too much for too long.  In a storm, even though the terns are very good fliers, it's difficult to fight the wind, find food in the churned up water, feed themself and possibly a mate protecting eggs/chicks, and feed their offspring.  Some parents were still sitting on one egg, and had one or  two very young hatchlings.  Storms are very disorienting for a colony with young chicks.  They tried hard, but sadly, we lost a few chicks.  This is a similar dynamic that would happen in a natural colony environment…. trying to find food being the biggest challenge.
The better news:  We had a much larger number that survived and they are now coming along well.  In addition,  it was still early enough for many of the couples to begin again.  Last week, when we thought perhaps we'd have a modest amount of new nests, we ended up having another boon of 30 nests.  We are now at 272 nests.  We have a couple more weeks left in the season where we still may be hosting new arrivals, so we'll see.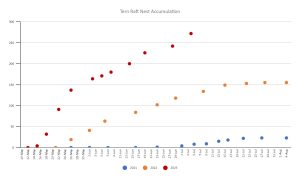 In other news, a surprise visitor came to the raft last week, a one-year-old Common Tern!   If you're wondering why it's a surprise, generally young birds do not migrate and make the trip north for 2-3 years when they are a full breeding adult. It makes no sense to migrate to breeding grounds until it's time, migration is taxing.   It is so uncommon, it took us a minute to understand what kind of tern it was as the markings are so seldom seen here.  It has been trying to land on the raft with not complete success.  We don't yet know if it's one of ours from last year. It has one band we can see in the photos, but our Bird Habitat Coordinator Kim Abplanalp who has been responsible for all the amazing photos in all of these blogs is trying to capture the left leg which would show a field readable band, so stay tuned, it's been visiting most days recently.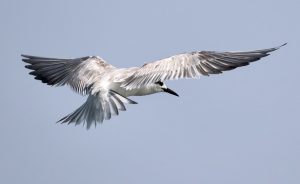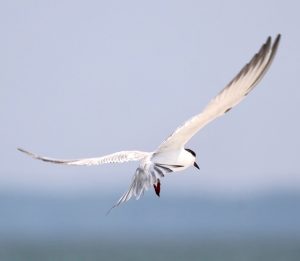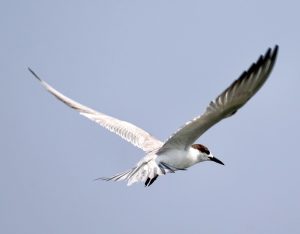 We have also installed our ramp again this year.  Some of our chicks are growing up and close to begin practice flying.  The ramp is designed to allow them to swim up to it and walk back up to the raft if their muscle development is not strong enough for them to lift out of the water in flight.  A big thanks to our team here at Maryland Coastal Bays Program who stayed out into the evening Friday after we were delayed earlier by storms to ensure it was available for the weekend.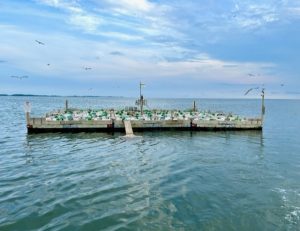 We leave you with some bright moments of our raft this week. Chicks in relationship with their parents and healthy.  Moments captured that give us renewed hope for another successful year despite our storm setback.  As our Abplanalp stated "it's been touching to see these birds so committed to their young."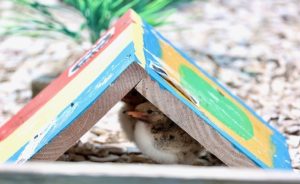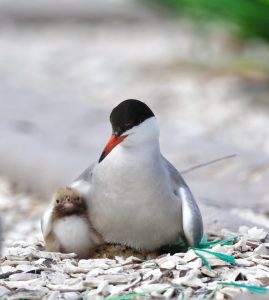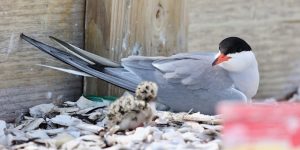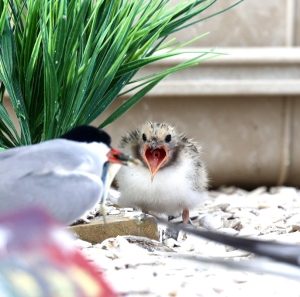 Photos by Bird Habitat Coordinator Kim Abplanalp