Explore the Estuary: An Adult Learning Series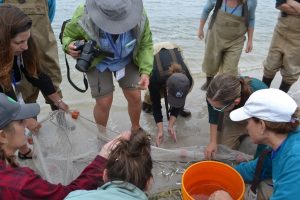 This education series offers the unique opportunity for adults (+18 years old) to continue to broaden their knowledge of the Maryland Coastal Bays watershed. The four themed programs will provide an in-depth look into the natural world and conservation issues in the Coastal Bays. Each program is a hybrid, with a webinar component, and a field experience. The webinars will feature a talk with an expert in the field. The field experiences will be led by MCBP staff and held locally around the Coastal Bays watershed (limited numbers). It is not required to attend the webinar in order to sign up for the field experience.
The four programs will be offered in April, June, September, and October, respectively.
Program 1: Restoration in the Coastal Bays
Program 2: Wings on the Water: A closer look at our coastal birds
Program 3: Biological Monitoring: Fish, oysters, grasses, and more
Program 4: Watershed Forests
Registration and detailed descriptions for each of these programs will be made available for the month leading up to the events. All webinars are free to attend, and if there is a fee for the field experience, it will be indicated on the registration form. For more information on these programs, please email Education Coordinator, Liz Wist, at lwist@mdcoastalbays.org.
---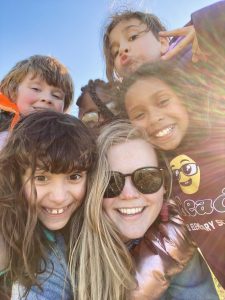 Journey up the Coast: An In-Person Exploration of the Inland and Coastal Bays
The Maryland Coastal Bays Program and DE Center for the Inland Bays are excited to announce a unique summer opportunity for the next generation of environmental stewards! Children ages 8-12 are invited to "Journey Up the Coast: An In-Person Exploration of the Inland and Coastal Bays" on June 21 and 22! This education program will include a series of fun, interactive activities focused on topics such as watersheds, estuaries, and wildlife. It will take place outdoors at the James Farm Ecological Preserve in Ocean View, DE. This program is entirely free, and participants will leave with some great exploration items! To learn more, and to register your young learner, click the link below.
---
Discover Your Watershed
At MCBP, we make it a priority to provide opportunities to community members and visitors of all ages to explore and expand their knowledge of our watershed's restoration properties. Community exposure broadens public knowledge, and this knowledge helps ensure commitment to the longevity of those projects and support for future projects.
Discover Your Watershed is an education and volunteer series that introduces participants of all ages to public and private restoration sites in the Coastal Bays watershed, while providing restoration and educational hands-on activities such identifying macroinvertebrates, removing invasive species, and planting wetlands. Check out our calendar for this year's DYW events.
---
Bay Day
Bay Day is a collaborative environmental festival hosted yearly by MCBP and Ocean Pines. The goal behind this day is to educate residents of the Coastal Bays watershed—specifically the St. Martin River—on actions they can take right in their own backyard to become more bay-friendly. To fulfill the goal, education is prioritized throughout the event! Attendees will experience a wide range of environmental exhibitors, nature-based crafts, live animal exhibits, boat rides, live music, kayak trips, interactive exhibits, hands-on activities, and informational tables.
Each year over 35 environmental organizations participate, ranging from our local state parks and nonprofits to outdoor education providers.  Their focuses include forests, farms, oysters, horticulture, birding, and ocean conservation. Please visit our calendar for details on this year's event.